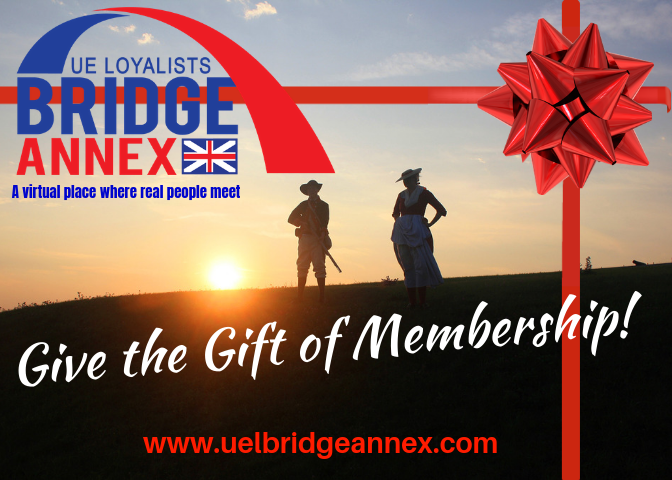 A meaningful gift for all occasions!
&nbsp
UE Loyalists Bridge Annex believes "meaningful membership"&nbsp can take many forms. Joining yourself and gifting memberships to your friends and family is a wonderful way to share in this innovative approach to connecting with a dynamic community of history enthusiasts while preserving the legacy of the United Empire Loyalists.
When you purchase a pre-paid membership as a gift, you will be able to download and print a gift certificate, once payment is confirmed. The recipient of your thoughtful gift will then be able to make contact with us once they receive their gift certificate to activate their membership and start reaping the many benefits of being a member of UE Loyalists Bridge Annex.
Membership Benefits:
2 issues of The Loyalist Gazette (Magazine or Digital available) produced by UELAC. Now in full colour!
4 issues of Bridge Annex Times: A digital magazine-style newsletter with a mix of branch news, historical and genealogical articles, and more!
Full-colour downloadable/printable 2019 Membership Certificate
Access to Member-Only content: Webinars, chats, vlogs, closed Facebook group for research and information sharing, and other specialty content (Coming 2019)
Assistance with your UELAC Certificate of Descent application
First option to book specialty events e.g., tours, branch events, etc…
Flexible Volunteer Opportunities for special events and programming
Our website is full of information and links for informational and research purposes – and is constantly being updated!
…and much more!
Upon completion of your purchase, you will be able to download a printable Gift Certificate (colour or black and white).
For more information see: Commonly Asked Questions&nbsp below.