"From pioneer settlements to significant battlegrounds of the war of 1812; and from the final resting place for famed explorer Simon Fraser and Ontario's first Premiere, Sir John Sandfield MacDonald to the flooding of villages and relocation of some 6,500 people to make way for the St. Lawrence Seaway Project, the Township of South Stormont is teeming with incredible historical stories waiting to be retold." Township of South Stormont
"Stormont was created in 1792, but was settled seven years earlier in 1785. Veterans of Loyalist regiments were among the first settlers. An estimated one third of the pioneers in the county were Highlander, one third German and the rest English, Irish and Lowland Scots.
The original territory of Stormont also included Russell County, which became a separate county in 1800.
Stormont later united with Dundas and Glengarry to form the regional government United Counties of Stormont, Dundas and Glengarry."
Historic Townships
Cornwall (SE): area 63,460 acres (257 km2). Was settled in 1785 by veterans of Sir John Johnson's and other Loyalist companies. Community centres were Moulinette, north Field and Cornwall. This township is now part of South Stormont Township
Finch (NW): Was part of Osnabruck Township until 1798. It was settled in 1785. It is named in honour of Lady Elizabeth Finch, wife of the first Earl of Mansfield. Community centres were Crysler, Berwick, Finch, and Glen Payne. The township is now part of North Stormont Township
Osnabruck (SW): area 61,320 acres (248 km2). Surveyed from 1784 to 1787, it was named from a Hanoverian town closely associated with the royal family. The township was settled in 1785 by Loyalist veterans, many of them Germans. Community Centres: Newington, Grantley, Osnabruck Centre and Wales. The township is now part of South Stormont Township.
Roxborough (NE): Was part of Cornwall Township until 1798. It was named from the Scottish County. Community Centres were Moose Creek, Avonmore and Monckland. The township is now part of North Stormont Township.
Source: Wikipedia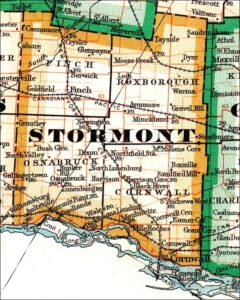 Visions of Stunning Stormont County
Enjoy exploring various sites & characters of Stormont County

The History of Cornwall
VIDEO: Cornwall, Ontario – The Shores of the St. Lawrence (Length 2:10; Choose Cornwall)

The Lost Villages of the St. Lawrence River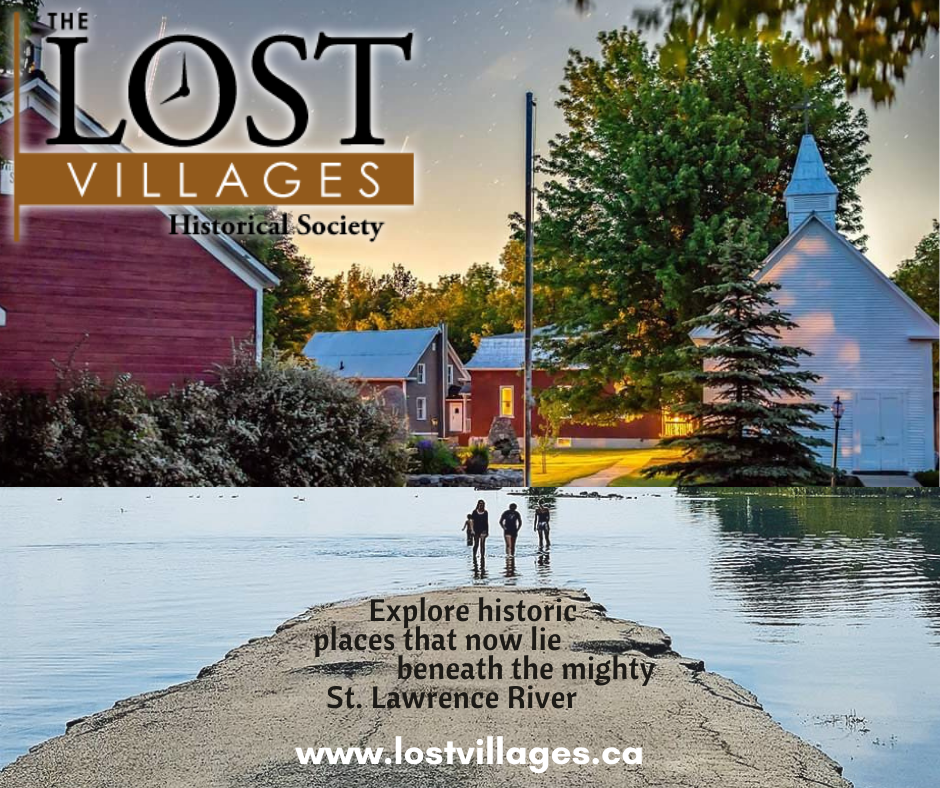 A UNIQUE WAY TO EXPLORE: Did you know you can see remnants of the Lost Villages streets below the surface of the St. Lawrence River? By using the Satellite feature on Google Maps, you can explore the Long Sault Parkway!
IMAGES: Sunken Villages – Aerial Photographs.  St. Lawrence River's Lost Villages
VIDEO: Re:Location – The Lost Villages of the St. Lawrence Seaway (Length 28:49; CPAC)
Lost Villages Historical Society (LVHS)
VIDEO: Lost Villages (Length 7:02; Mountain Lake PBS)
VIDEO:The Story of the St. Lawrence Seaway (Vintage Film; Length 12:29; 16mm Educational Films)
VIDEO: Akwesasne History Project: The St. Lawrence Seaway (Length 5:36; Akwesasne TV)
VIDEO: Drone Footage of the Long Sault Parkway (Length 6:21; Bin Sun)

Plan your next trip to Where Ontario Began