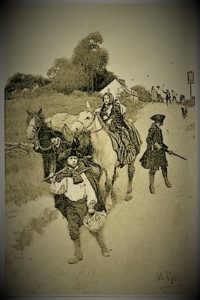 The experience of individual United Empire Loyalists is as unique as each one of us. There is no one story, but many complex ones within our history. The following information and related links will provide some insight into the numerous facets and experiences of being a United Empire Loyalist. We welcome user-contributed content. Please&nbspCONTACT US&nbspyour stories, images, links and insights.
Haudenosaunee Allies & Loyalists
Haudenosaunee Allies & Loyalists:&nbspThis link will take you to our dedicated Haudensaunee History page, curated by David Kanowakeron Hill UE
Black Loyalists
The story of Black Loyalists is one of the many complex parts of the history of the United Empire Loyalists. Even when some UELs arrived in Canada, they did not stay – they set off on ships to start anew. This is one family's story of discovering this history. "Wayn Hamilton traces his family's history back to black soldiers who sided with the British during the American revolution, and eventually found refuge in Nova Scotia."&nbspBlack Loyalist History. CBC News. 2013
Black Loyalist Heritage Society
Richard Pierpoint – Heritage Minute:&nbsp"At 68, a formerly enslaved Black Loyalist enlists men for the Coloured Corps, an instrumental company in the War of 1812."
Black Cultural Centre for Nova Scotia (Canada): Black Loyalist Migration
Black Loyalists – The Canadian Encyclopedia
Departure of Black Loyalists – Historica Canada
Black Loyalists – Canada's History
American Loyalists – Loyalists who remained in America
COMING SOON!
Palatine Loyalists
The Palatines – UELAC.org&nbsp(pdf document)
The 1709 Palatine Migration and the Formation of German Immigrant Identity in London and New York (Pennsylvania History)
Scottish Loyalists
COMING SOON!
Hugenot Loyalists
COMMING SOON!
Dutch Loyalists
COMING SOON!