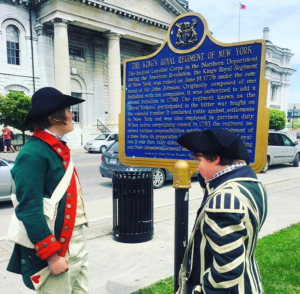 Due to the trans-border nature of the internet world, we're excited to open the UELAC up to new communities and Nations which may have not been offered as accommodating invitation as they should have been.
Moreover, we hope to stimulate interest in Loyalist history and heritage among those who perhaps have never considered how intricately bound their own history and heritage is with respect to the Loyalist experience.
More than simply a 'British Canadian thing', the Loyalist history includes all walks of life along with undeniably diverse national and ethnic backgrounds.  Of particular note, the Haudenosaunee Confederacy played a critically vital part in defending and aiding their Loyalist friends and neighbours.
Such a key source of brave selflessness may be shown by a portion of the Association's Coat of Arms, the Armorial Bearings.
Supporting the symbol of Loyalty and friendship  – the Union or
 Queen Anne's Flag – are two arms; one represents the non-Native Loyalist and the other, quite distinctly, is that of the Loyal Haudenosaunee.
The UELAC has always warmly welcomed inclusion and participation of Haudenosaunee who wish to claim their rightful honour as UEL's.
Recognizing that Loyalist heritage and honour is every bit as much a right for those Haudenosaunee who wish to claim it as it is for non-Native descendants, Bridge Annex  will take exceptional steps to reach out and assist the Confederacy's various communities whenever and wherever possible.
Our current Branch Vice-President, David Kanowakeron Hill-Morrison UE, is a Joseph Thayendanegea Brant descendant and Status Mohawk of Six Nations of the Grand River and has had his proven UE Status since 1993.   Dave is keenly interested in answering any questions or providing his assessment of the Association and he's easily accessible.
So have a look around our website and be sure to ask questions or make comments; the 'how-to', 'who-did' and 'why-should' questions will be mostly answered here.
Another benefit Bridge Annex has is the wide geographic coverage of our Branch executive and members which should be instrumental for those seeking to find information on a specific area or region.  Not limited to any one particular service area, our reach extends across lines of provinces, states and countries.
Plus, as another of our Branch's features, we've made it super easy to become a member in a matter of minutes.  Our 'Join Now' option as well as any financial transactions you might wish to make for dues, books, flags or clothing will offer you convenience and security above and beyond most other heritage groups.
Our online video updates, broadcasts, short movies and documentaries and live meet-ups are also other firsts not generally found in other groups.
We're the new face in the United Empire Loyalists and we think you're going to like what you see.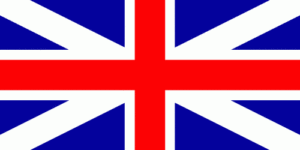 Loyal Then, Loyal Now!