JOIN US!
We're building a vibrant community representative of many ideas and interests, but we have one thing in common: we're all passionate about preserving the legacy of UE Loyalists and related history. We will post specific volunteer positions from time-to-time, but also want you to tell us what part you want to play in UE Loyalists Bridge Annex.
We understand time commitments and interest-levels are often limits in being active members, so we want to make it easy and enjoyable to be part of our team.
Have an idea?&nbsp Share it!
Want to help plan/execute events?&nbsp Volunteer!
Want to be part of ongoing projects?&nbsp Volunteer!
Want to build skills while helping us with the work of running our innovative branch?&nbsp Volunteer!
Whether you want to be a one-time volunteer, participate on a project, or on an ongoing basis, we hope you'll reach out to help us grow and deliver on our goal of changing what "meaningful membership" can be and engage a wider-community to create interest in the legacy and history we preserve and share.
Before applying, please read our Volunteer Policy
Upon completing the volunteer application and selection process, Volunteers will be directed to final paperwork.
Volunteer Team Categories:
Communications Team (Quarterly Newsletter (Bridge Annex Times), Marketing, Public Relations, etc…);
Events Team (UE Loyalists Bridge Annex Special Events & Projects, Attendance/Support of Events Hosted by Other Organizations, etc…);
Member Relations Team (Membership Campaigns, Member-specific Communication, Community Engagement Initiatives, etc…)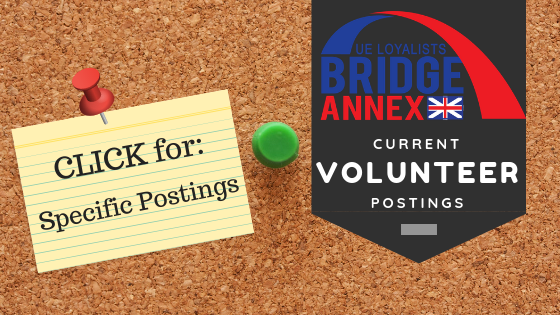 Thank you for considering volunteering with UE Loyalists Bridge Annex!