Loyalist Resettlement in Canada & Beyond
"Although many arrived in Canada in destitute shape, the British Crown was very generous with these new immigrants, granting them land, and suppling them with three years of clothing, tools and provisions. The land settlements were based on service to the Crown as follows:
To Loyalists who fought for the Crown:
To every field officer – 1,000 acres
To every captain – 700 acres
To every subaltern, staff, or warrant officer – 500 acres
To every non-commissioned officer – 200 acres
To every private – 100 acres
For each member of their families – 50 acres
To non-combatant Loyalists:
Every master of a family – 100 acres
Every person in the family – 50 acres
Every single man – 50 acres"
Source: http://www.rideau-info.com/canal/history/loyalists.html
Ontario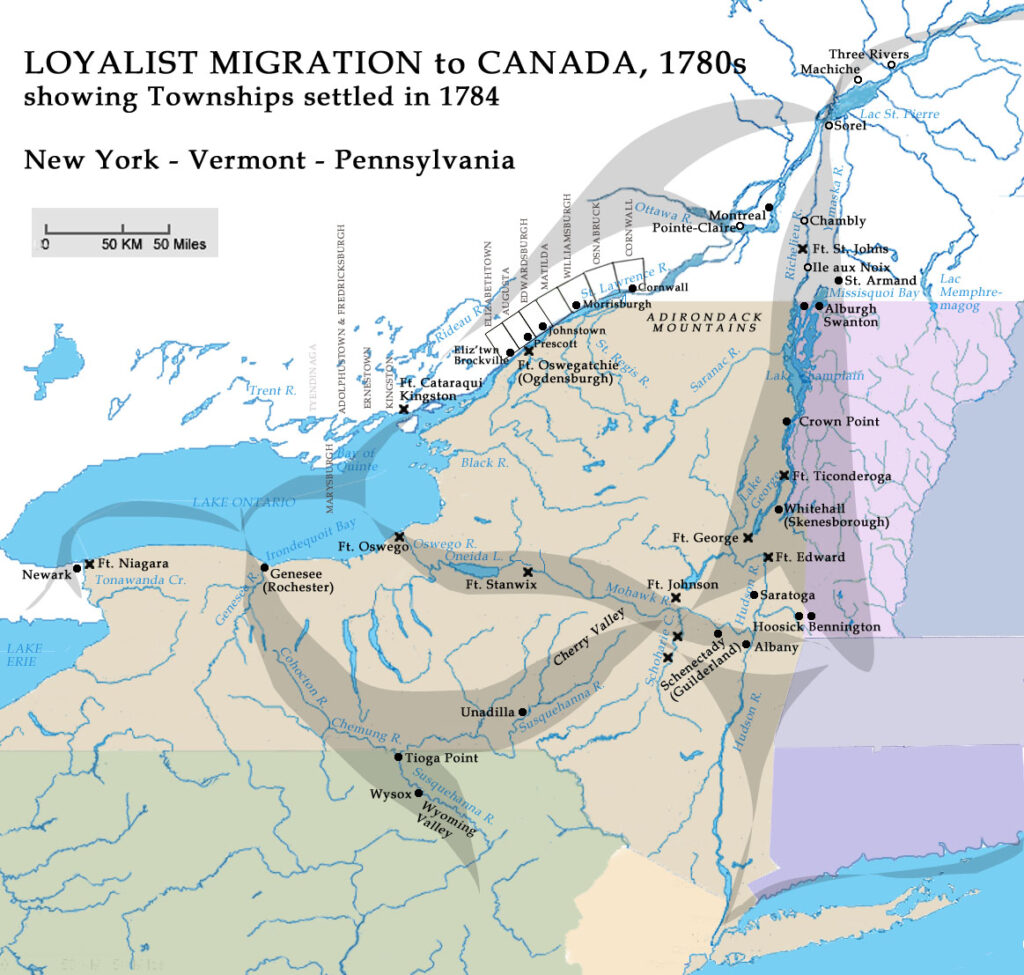 Many of the Loyalist families who resettled in Stormont, Dundas and Glengarry (SDG) Counties, Ontario, host region of UELAC 2021, originally came from the Mohawk and Schoharie Valleys, New York. The article, What Happened to 7,000 People? by Gerald Horton(ThreeRivers), explores the exodus of Loyalists from this region.
The United Empire Loyalists Come to Upper Canada (Toronto Public Library)
Includes: TEXT & VIDEO: The Loyalists (Loyalist Parkway)
United Empire Loyalists (Rideau Info)
Heritage Minute: United Empire Loyalists (Haldimand County)
"During the American Revolution, Adam Young and his sons fought with the British alongside the Mohawks led by Joseph Brant. When six miles on either side of the Grand River was given to the Six Nations after the American Revolution, Joseph Brant and the Six Nations invited Adam and his family to settle beside them in 1783. Brant gave Young, and another friend and ally Hendrick Nelles, tracts of land along the Grand River each three miles long by three miles wide in what is present day Seneca." (Note: Uniforms at beginning of video are War of 1812 period)
VIDEO: United Empire Loyalists in Grimsby, ON (YourTV Niagara)
London & Western Ontario Branch UELAC
Prince Edward County, Ontario | Danforth Road Trail Project
Quebec
MAP: Loyalist Townships (Township Heritage WebMagazine)
United Empire Loyalists In Quebec's Eastern Townships (Sir John Johnson Centennial Branch UELAC)
New Brunswick
New Brunswick Loyalist Journeys (arcgis)
Nova Scotia
MAP: Black Loyalist Settlements (Nova Scotia Museum)
The United Empire Loyalists of Remsheg; refugees from the American Revolution. Wallace and Area Museum (virtualmuseum.ca)

Loyalists Made a Difference (Cape Breton Post)
Prince Edward Island
PDF: Loyalist Settlement on Prince Edward Island (UELAC.org)
PDF: The Loyalist Question on Prince Edward Island by J.M. Bumsted (University of PEI)
Sierra Leone
Departure for Sierra Leone (Nova Scotia Museum)
From Nova Scotia to Sierra Leone (Black Loyalist)


United Empire Loyalists also resettled, or returned to, the United Kingdom, Caribbean, and India. American Loyalists never left what is now know as the United States of America. Read more about their experience in The Many Cultures of the UE Loyalists
THESIS: A tumultuous upheaval and transformation: The impact of the American Revolution on the Bahama Islands by Ross Michael Nedervelt (University of New Hampshire, Durham; 119 pages)