The Adventures of Private Randy – Winter Edition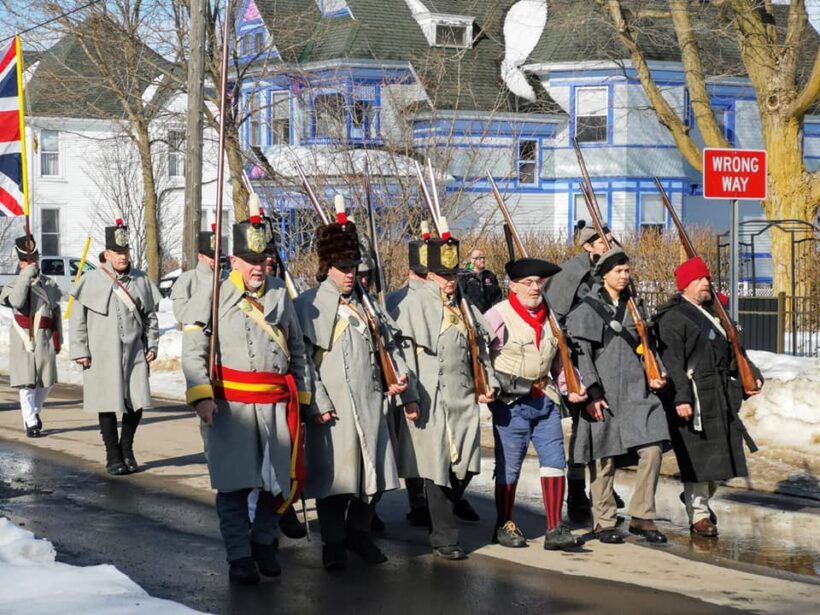 By Amanda Fasken UE (AKA Private Randy)
When war broke out in 1812, Loyalist families committed themselves to defending the British Crown and their lands for a second time. The Americans' failure to conquer Canada evoked a powerful sense of vindication for many Loyalists who survived both conflicts. Those survivors came to form their own brand of postwar identity—one based on resistance, unity, and loyalty to empire. This is how I see the War of 1812 and it's connection to the American Revolution.
Cannon and musket fire marked the Battle of Ogdensburg Reenactment on February 23 at the former site of Fort De La Presentation in Ogdensburg, New York. Sponsored by Forsythe's Rifles, Ogdensburg commemorated the Battle of Ogdensburg with a re-created battle down the main streets, following a similar route of the British-Canadian army in 1813 as it fought toward the fort on Lighthouse Point. It has become an annual tradition that reenactors look forward to, burning off some black powder after a winter hibernation.
For Canadians like myself, it's a time to reconnect with my fellow reenactors, especially my American counter parts. Over time our foes become good friends. I have even found two distant cousins on the US side, both members of the Forsythe's Rifles. I enjoy telling them that they are fighting on the wrong side. Our shared ancestors were Loyalists (KRRNY) who went on to serve with the Stormont Militia in 1812. The Stormont Militia were also along side the British forces on February 22, 1813, launching a surprise assault across the frozen St. Lawrence River on the American post at Ogdensburg.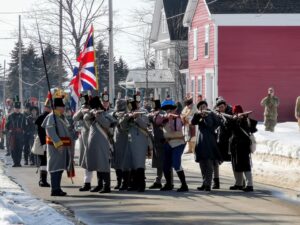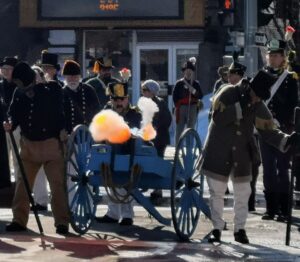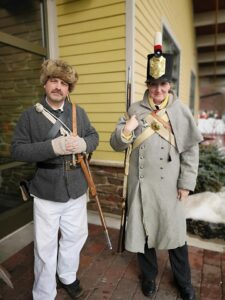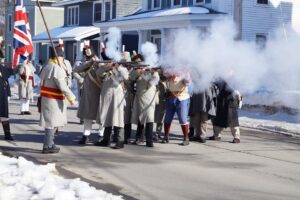 The battle has become more of a family affair, being able to walk in the footsteps of my ancestors. The city greets us with open arms instead of open fires, showing us so much warm and hospitality.  My reenacting unit, the Canadian Fencibles have also become a family. We proudly march down the streets of Ogdensburg every year in our winter great coats, with a hint of red peeking out from our regimentals worn underneath. The battle ends the same every year, but we never tire of charging our bayonets at the US line at the end. But unlike in 1813, we shake hands, hug and go to the pub for a drink together after. As it should be.
————————————————————–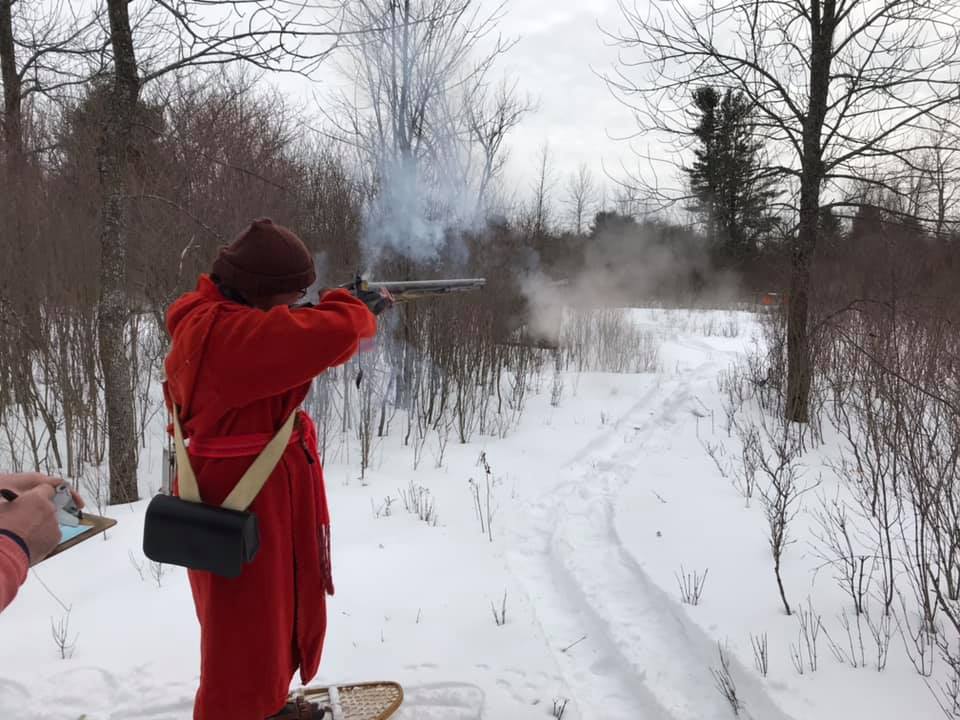 St. Lawrence Valley Primitive Snowshoe Biathlon
I wanted share my photos from the St. Lawrence Valley Primitive Snowshoe Biathlon in Lisbon NY. I took part in just after the Battle of Ogdensburg. It was my first time participating in anything like this. It was blast (literally, see photo of the hole my .75 cal flintlock musket made in the steel target frame). As a reenactor it's good to be reminded of just how much damage a Brown Bess can make. And I can't imagine the wounds this would have inflicted on the soldiers. It was only my second time live firing my musket and I was able to hit the target 1 out of 5 times. I 'almost' hit the target once. I think their aim could have been better then what we tend to think.